This guide will teach you 10 proven e-commerce marketing strategies working right now.
I reached out to 20 eCommerce marketing experts, ranging from PPC masters to content marketing gurus, social media marketing fanatics, and search engine optimization pros.
They all answered one simple question:
What are the best eCommerce marketing strategies for new and established eCommerce sites?
Big names like Aaron Orendorff of Shopify Plus, William Harris of Sellbrite, Tracey Wallace of BigCommerce, and many more gave their best insights.
Use their secrets to start increasing sales, driving traffic, and put together a marketing plan to decimate your competition.
What are we waiting for?! Let's dive in!
10 E-commerce Marketing Strategies To Grow Your Online Store
Before we dive into these marketing tactics, a quick word of wisdom from William Harris, Founder of Elumynt and Marketing Manager at Sellbrite:
"
"Do what you know. For some that might be influencer outreach, for others it might be advertising, for others it might be content production.
Either way, it's a beast of a job to get something started from ground zero, but you'll be more successful if you are going after a tactic that you're good at instead of trying to learn something you've never even been exposed to before."
William Harris – E-commerce Expert, Elymunt.com
In other words, if you already know or enjoy a particular marketing strategy, double down on it. Skip to that strategy in this guide, learn more about it, get better, and make that moolah.
Now, let's dive in! Here's a quick table of contents:
1. Content Marketing
Content marketing is exactly what you're reading here now. It's content you create – typically on a blog – to attract and convert website visitors.
For example, let's say you sell shoelaces. You could write some articles like "The Best Shoelaces for White Shoes" or "5 Kinds of Shoe Laces You Didn't Know Existed". The goal is to help the reader gain knowledge about your product or niche in an informative, helpful way that isn't overly salesy.
It's first tactic on this list because it's arguably the most effective – both in terms of conversions and costs.
In fact, here's what Aaron Orendorff has to say about it:
"
"Separate building your tribe from paying for customer acquisition.
When you're starting out, it's crucial to genuinely connect with what Kevin Kelly calls your first "1,000 True Fans." Focus on creating content that infuses humanity — your story — into your product. This almost always means blogging on real estate you own (as opposed to offsite platforms) as a backbone — especially for SEO and building your email list. But that strategy also has to extend to native social sharing on the networks your target market spends their time.
Don't sell. Connect.
Aaron Orendorff – Editor-in-Chief, Shopify Plus
Aaron goes on to say, "At the same time, when you do sell… sell hard through paid acquisition strategies.
To keep costs down, I recommend Google PLAs (product listing ads), connecting those ads to reviews and ratings as fast as possible, single keyword Adwords groups, and Facebook retargeting from pixel-delayed PDPs (product description pages)."
More on that in the PPC section below – for now, here's what you need to know:
Your e-commerce blog can increase your organic traffic, help you grow your email list, build trust with your customers, and ultimately increase sales. You can rank for keywords outside of your product keywords through content creation (more on keyword research in the SEO section). Content also makes it easier to get social traffic and backlinks from other websites.
To give you an example, take a look at The Wandering RV. They sell travel and RV-related t-shirts and get 99% of their traffic through their blog content.
They've written articles like how to live in an RV, how to go RVing with pets, and more – most of which are ranking in the top 3 Google search results and driving over 50,000 visitors per month.
If they stuck to their product keywords – like Wanderlust Shirt, for example – they wouldn't get a fraction of a percent of the traffic they're getting now. That's the power of content!
To back that up, we have Vladimir Gendelman, CEO & Founder of Company Folders, Inc.
"
"Regardless of whether you're a brand new store or one that's been in business for years, content marketing is an extremely useful tactic. Rather than drive our Google ranking up with a bunch of spammy junk links, we focus on creating high-quality, authoritative blog posts—the best content available on a particular subject.Our blog articles do more than just help us rise up the ranks of Google. They also help demonstrate our expertise within our field, building trust with potential clients and opening up opportunities to collaborate with other well-established voices in the industry. That's helpful whether you're new on the scene and trying to convince people they should listen to you, or if you're just trying to maintain relevancy."
Vladimir Gendelman – CEO & Founder, Company Folders, Inc
​So how do you get started? Here are two awesome resources:
2. Search Engine Optimization (SEO)
Search engine optimization is about fine-tuning your website to rank higher in search engines like Google, so you can get more organic traffic. It's easily one of the most important e-commerce best practices.
SEO strategies can be broken into three parts:
On-Page SEO
Off-Page SEO
Technical SEO
On-page SEO refers to the changes you make directly on a page in order to help it rank higher. This includes choosing a good target keyword for the page and ensuring your keyword appears in the title, first paragraph, body content, URL, and more.
Here's a handy infographic guide to on-page SEO from Backlinko:
While this infographic was originally made for long-form content (like the kind you create for content marketing), most of these apply to your product pages as well.
The key differences being your page won't be as long, and you'll get a boost from things like product reviews. To learn more about on-page SEO for e-commerce, see this guide.
Next up, we have off-page SEO.
Off-page SEO refers to the optimization efforts not under your control – mainly, backlinks from other sites to your site. Backlinks are one of the three most important ranking factors for Google (the other two being content and mobile experience).
Image Source: Moz
Link building is one of the most difficult (yet most important) parts of SEO. It usually requires epic content that's valuable, well-written and well-designed, plus a lot of manual email outreach efforts.
Finally, we have technical SEO.
Technical SEO involves your site architecture, back-end code, internal linking, and URL structure (among other things).
In my opinion, compared to on-page and off-page SEO, technical SEO is the least important for smaller sites. It's not something you need to worry about until your site has hundreds or even thousands of web pages.
That said, it's still good to know the foundations and build your site properly now, so things don't get complicated and messed up as you grow.
If you need help designing your site to be SEO friendly, contact us and we'll answer any questions you have!
SEO is a big beast to tackle. Here are some extra resources:
3. Social Media Marketing
You can't talk about digital marketing without mentioning social media. In fact, 81% of people in the US had some form of social media account in 2017, and that number is still rising.*
Personally, I believe the only social channels worth putting effort behind are Facebook, Instagram, and Pinterest. While there are dozens of others, like Twitter or Google+, these three are the most popular and lend themselves the best to e-commerce.
Why social media? I'll hand the mic over to e-commerce expert Matt Warren for this one:
"
"For a new store, there's the basics like SEO and making sure you're branching out to listing on the usual online marketplaces like Amazon and eBay.
But one of the most exciting internet marketing opportunities has to be what's happening with social media right now. Instagram has recently rolled out their Shoppable Posts to countries outside the US and have also started introducing in-app payments too. Meaning they are effectively creating a new marketplace among their 800 million monthly active users.
Snapchat and Pinterest also seem to be threatening to do something similar. And they're all focused on providing a super sleek, frictionless buying experience. So you have to think that selling directly through these social channels is a fantastic opportunity to convert casual browsers into solid, repeat buyers.
Once a store is more established, I think expanding this into a true omnichannel operation is the way to go. Meaning that you're giving customers a genuinely integrated, unified experience across social channels, mobile, e-commerce and any physical stores.
Consumers are already starting to demand this. And one study found that the strongest omnichannel retailers retained 89% of their customers, compared to just 33% for weaker ones.
So I would say being able to consolidate your entire operation into one, unified experience for your customer is the future. And how retailers are going to win going forwards."
Matt Warren – Founder & CEO, Veeqo
Obviously, there's a lot that goes into social media marketing. You've got day to day posting, optimizing those posts, engaging with fans, direct messages, images, and more.
Rather than trying to give you a guide to everything social media, here are a few excellent resources so you can pick exactly what you'd like to learn:
4. Email Marketing & Community Building
Did you know that in 2015, email marketing brought $38 ROI for every $1 spent on it?[*]
Email has long held the highest ROI of any eCommerce marketing channel.
​That's because it's one of the only channels you fully control – you can send emails when and where you want, and they can say anything you want. There are very few regulations, unlike other channels.
And no matter where you're at in your entrepreneurial journey or which marketing channels you're focusing on, you should still be collecting emails!
Beyond just having an excellent ROI, email marketing helps you create a tribe, or community, of loyal fans. Remember how Aaron Orendorff mentioned your "1,000 True Fans" in the content marketing section? He's not the only expert to advocate this strategy.
Here's some advice from Lisa Callahan, the Community Manager & Editor behind MarTechExec, a community for online marketing managers.
"
"Above all else, new ecommerce stores need to prioritize one thing: Building a niche community.
This starts by creating a buyer persona and identifying their natural habitat. Do a little investigative work, and think beyond the mainstream channels. There's no doubt you need a presence on at least one of the major social media platforms — Facebook, Instagram, Twitter, YouTube, Snapchat or LinkedIn.
But even your efforts there should be keenly focused. Join groups, use hashtags and engage in conversations related to your industry. Be patient and consistent. Remember that Rome wasn't built in a day, and neither are the communities of legendary brands.
Once you've found your scene(s), trickle in some content marketing. Communities you've already nested yourself in will be much more inclined — and probably even excited — to learn what you have to say.
Lisa Callahan – Editor & Community Manager, MarTechExec
To start building your list – and your community – you need to find ways to collect emails beyond just asking for them at checkout. Having customer's emails is great, but you want potential customer's emails, too!
That said, don't forget about the emails you're already sending every day – transactional emails. Here's some advice on these important emails from Jeff Cox, online marketing manager at SendInBlue:
"
"One of the biggest, yet often overlooked, areas of opportunity for eCommerce marketers is the optimization of their transactional emails.
These messages — which include things like email verifications, order and shipping confirmations, and receipts — receive significantly higher engagement than their bulk email counterparts because they communicate important information at critical points in the online shopping process.
​
However, transactional emails don't have to be generic messages that simply
regurgitate purchase details or shipping information; they can also be used for marketing purposes!
Take advantage of this valuable real estate by adding marketing calls-to-action to continue building a stronger relationship with your customers. Some example CTAs might include:
Highlighting an upcoming sale

Inviting customers to join a loyalty program

Suggesting related or complementary products to purchase

Inviting customers to refer your store to a friend (and offering a discount when they do!)

Asking for feedback with a customer survey

Including links to your social media pages
Of course, you shouldn't jam all of your marketing CTAs in one transactional message though. Instead, you should only include CTAs for your highest priority marketing objectives or test different types to find the CTAs that perform the best with your customers. Adding these elements to your eComomerce store's transactional messages will help you create more meaningful engagement with customers, cultivate more brand loyalty, and sustainably grow your online store.
Whatever you end up including, just remember that you want this information to add value to your customers' experience as well. If it seems like you're only including marketing CTAs to generate more sales, customers aren't going to engage. Like any other marketing communication, you still need to frame the offer in a way that highlights the value for the customer."
Jeff Cox – Inbound Marketing Manager, SendInBlue
Keep in mind that an email list is virtually useless without engagement. That's where the community aspect comes in – real people on the other side of your laptop, engaging with your emails, content, and groups.
As Aaron shared, you need your 1,000 true fans. As Lisa said, a niche community is the one thing that will help you get off the ground. But we have more advice on communities from Tracey Wallace, the kick-ass editor-in-chief of BigCommerce:
"
"The best ecommerce strategy for a new store is to start local and build your community.
Some of the fastest growing digital native brands out there began on a shoestring budget, which meant little to no PPC, Facebook Ads or even influencer marketing. Instead, they focused on building a great site that was highly optimized for long-tail search results (think: brown high top shoes giving back).
That's your long-term visibility play. For the short term, you then need to go out and build your local community. You can do that through local business networking, launching an ambassador program with your local college, attending pop-up events, partnering with other local organizations, launching Facebook Ads targeted at your local audience, etc.Visibility for new brands is the hardest beast to overcome. Start local. Build social proof and word of mouth, and then expand slowly into new markets.For established brands, the playbook is pretty similar, but now focused more on retention. You need to build out email streams that engage. Figure out ways to get folks to come back and buy from you –– or at least go back to your site and hang out. You need to, essentially, prove your brand has value other than the product you sold them.This matters for a lot of reasons but primarily because you cannot accurately forecast without understanding Customer Lifetime Value –– which affects both Cost of Acquisition and Return on Ad Spend. As advertising channels get more competitive and more expensive, you'll need to get geeky with your data on exactly what your advertising spend gets you. And you can't do that well without understanding your retention rates and customer lifetime value.
Tracey Wallace – Editor-in-Chief, BigCommerce
Beyond communities and transactional emails, you also have emails for abandoned shopping carts. Abandoned cart emails can help you win back potential customers and, when done well, actually improve the user experience. (Something you really wanted to buy but forgot about, for instance!)Disclaimer: Keep in mind that a new law was just released called GDPR, which affects how you must handle customer data (like their email). Read this article to make sure you're compliant!
Here are a few great ways to collect more emails and get started with email marketing:
5. Influencer Marketing
Influencer marketing means reaching out to and working with "influencers" – people who have a large following and influence on people's purchasing decisions – to promote your products.
This usually means paying them to post a picture of your products and a promo code. But it can also be a strategic partnership, an ongoing campaign, or something else. You might even be able to get them to promote you just by sending them a free product.
For example, Boxed Water partnered with Instagram Influencer Julianne Hough to promote their boxed water campaign. It got over 1,100 likes in the first 13 hours, and probably resulted in a nice sales boost.
If you're ready to dive into influencer marketing, check out these resources:
6. Pay-Per-Click (PPC) Advertising
PPC ads are hands-down the fastest way to increase sales for your online store. You can create an ad right now and have sales by the end of the day, without building an audience or waiting for your content to rank on Google.
The drawback to PPC ads is that once you stop paying for them, the sales stop coming. In order to scale them, you have to increase expenses. Still, they can be lucrative if done right!
There are two major PPC platforms most e-commerce owners use:
Google AdWords
Facebook Ads
The main difference between the two is that Google Ads (and other search engine marketing, or SEM, ads) typically have a higher conversion rate than FB ads, but the cost per conversion is also much higher. This is because people searching for something on Google are ready to buy, whereas people browsing Facebook aren't typically there to buy something.
That said, it's still possible to have an excellent conversion rate on Facebook, and a low cost on Google AdWords, if you do your homework (or use an agency who does it for you).
To learn more, check out these resources:
7. Product Marketing
Product marketing is all about your product marketing itself. This could include excellent user reviews and other user generated content (UGC), product packaging, and product photography.
First up, user reviews and UGC are crucial to eCommerce marketing. If you want to improve your conversion rates, you need these. UGC refers to anything created by your customers – like reviews, photos of your product, and social media statuses.
For example, Warby Parker created a roundup of their 10 favorite user photos.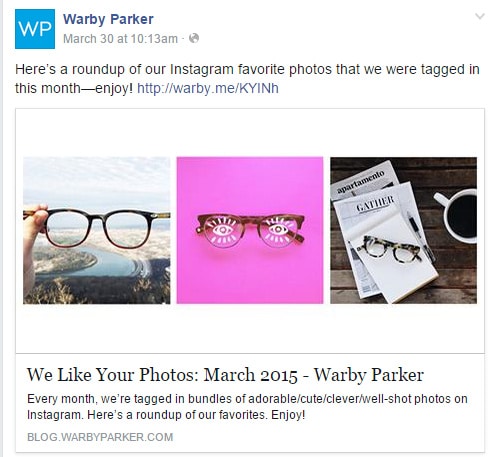 Next we have product packaging. Unique packaging can serve as a driver for word-of-mouth marketing, improved customer lifetime value, and even better customer reviews!
For example, Trunk Club put themselves on the map with their amazing product packaging. Their boxes got tons of publicity on social media, and even features in news outlets!
Finally, your product photography is crucial to your store's success. Not only will better photos improve your conversion rates, it can also help market your online store.
Ready to start product marketing? Check out these resources:
8. Sponsorships & Partnerships
Sponsorships & partnerships are an excellent way to grow your online store without spending a ton of cash. With the right partners, you can help each other prosper.
For example, you can partner with other e-commerce websites to host giveaways of each others products, swap email lists, create product bundles, and more.
As a real life example, Shahla Karimi partnered with Kenneth Cole to create a jewelry launch party for a special capsule collection. All because they were at an event in the same room, and the Kenneth Cole reps happened to love her work!
The official launch of our Bowery line with Kenneth Cole is tomorrow night! Come have a drink with me! We will also be recording custom sound waves on the spot! Please rsvp via info@shahlakarimi.com :-).
[tcb-script async="" defer="" src="//www.instagram.com/embed.js"][/tcb-script]
Ready to try out partnerships? Check out these guides:
9. Loyalty Programs
One of my favorite things about the local coffee shop I go to a few times a week is their loyalty program. For every 10 coffees I buy, I get a free coffee and get entered into a drawing to win a really nice coffee mug.
But I don't go back there because of the loyalty program. I go there for the environment, the coffee, and the great customer service. Where the loyalty program comes in is helping me make that decision of "which coffee shop should I go to today?" It provides that little extra incentive to go to my normal coffee shop instead of going somewhere else.
And that's what loyalty programs can do for you. It can help nudge your customers to buy from you – their favorite – instead of trying something new. Because they want to add to their loyalty points and get their rewards they're already progressing towards.
A big part of this process is gamification – a psychological tactic that provides immediately feedback and clear goals to work towards with obvious rewards.
One great example of this is Sephora's Beauty Insider program.
Based on how much you spend per year, you get access to better and better rewards – with the top reward getting you a "private hotline" and "invitations to exclusive events"! They know their customers extremely well, and use that knowledge to drive more sales.
Ready to implement your own loyalty program? Check these out:
10. Other Miscellaneous Marketing Tactics
Obviously, the nine e-commerce marketing strategies I shared above aren't an exhaustive list. They are just the most popular and proven digital marketing methods.
However, there are loads of other ways to grow your e-commerce business. In this section, I hope to cover a fair few of them.
First up, we have some more marketing tips from Aaron – this time, for more established stores.
"
"Upselling, cross-selling, resupply sequences (both email and through messaging apps), loyalty programs, and increasing customer lifetime value. All those are just different expressions of the single most important strategy for established stores:
Retention.
One of my favorite examples of a truly multi-channel marketing strategy aimed at retention — leveraging existing customers — is Pura Vida Bracelets. By relaunching their referral program through micro-influencers on Instagram and restructuring their reward tiers through email sequences and onsite offers, they increased referral orders by 300%. Not only that, but they also built an army of loyal customers who spent more and shop more regularly.
Aaron Orendorff – Editor-in-Chief, Shopify Plus
What he's saying is this: You need return customers.
No business can survive on selling to a person once and having them leave forever – you'll eventually run out of customers.
To get return customers, you have to focus on combining multiple channels with your loyalty programs, great customer service, and perhaps even a recurring order offering such as a subscription box. No single marketing strategy will do this for you.
And this idea of being everywhere – omnichannel – is a shared one. Lisa Callahan also has this to say:
"
"Once an e-commerce store has built a good online following, community-building starts to take care of itself. It absolutely needs daily attention (preferably from a dedicated community management team), but it's a hill you've learned to hike, so to speak, and it shouldn't require as much effort as it did at the start.
What should take precedence now is expanding your newfound community — beyond social media. Beyond your email list. Beyond the absolute bare necessities that all ecommerce stores have. Brands that want to be profitable need to be flexible, and that means putting your eggs in lots of different baskets (while making sure none of them ever break).
This is what omnichannel marketing is all about — You need to be online, on mobile, on web. Maybe you make an app. Or launch a popup store. Or host an event. But before adding more to your media mix, ask yourself: How do I connect tactic A to tactic B to tactic C, and beyond? Only expand as far as you can plan.
Lisa Callahan – Editor & Community Manager, MarTechExec
Lisa and Aaron weren't the only advocates of omnichannel. Next up, we have some advice from Bernard Meyer of Omnisend, an e-commerce marketing automation platform.
"
"I think one of the still-underrated ideas in the e-commerce marketing scene is the idea of omnichannel. Many e-commerce stores are using multichannel, but it's not really an integrated experience, which is where omnichannel comes in. If you're doing e-commerce marketing automation, you're probably using email, Facebook ads, Google retargeting, popups, push notifications and more. However, many e-commerce marketers are using them separately, rather than finding smart ways to integrate them. After all, customer experience is the one of the biggest things that separate the regular players from the big boys and girls. That's why, when you're coming up with your e-commerce marketing strategy, try to think of your customer journey, and how your touchpoints are working together to make for a seamless user experience. For example, if the user signs up on a specific page on your website, send them a specific welcome email series (not single email, but series of emails). Get their birthdates, then send them a combo of SMS/text message wishing them a happy birthday and promising a gift in their email. If they click any link in the email, set the push notification to set a special message. Retarget them if they don't buy. Just get the timing and messaging right, and you can convert visitors in a shorter period of time–without annoying them. It's truly powerful, but requires great strategy and integrated tools. It's what we're working on here at Omnisend, and why we're so gung-ho for e-commerce marketing automation that's omnichannel-based.
Bernard Meyer – Content Marketing Manager, Omnisend
Wow!
What a fantastic group of contributors! I just wanted to say thank you all for adding your expert insights and making this better than I ever could have alone.
If you choose one digital marketing strategy from this list and double down on it, you'll have more traffic and sales in no time. Just stick to it and don't give up. And if you're struggling to maximize your website and need help, contact us! We can help you design a kick-ass website to increase your conversions and SEO – just like we've done for dozens of other clients.