About Kimber
Kimber was founded with the singular purpose of building fine sporting firearms, better even than classics from the golden age of American gunmaking. Modern manufacturing techniques would be embraced and used to advantage, but assembly, fit and finish could only depend on practiced hands. There would be no compromise in features, materials or performance.
Kimber quality has led to unprecedented demand. Organizations like the USA Shooting Team, LAPD™ SWAT and United States Marines assigned to Central Command chose Kimber. American shooters did too, in a big way, and Kimber has become the world's largest producer of 1911 pistols.
[line]
The Project
A chic, sexy design with all the ins and outs, a robust, expandable website and CMS that could house hundred of products and pages, the ability to upload images, videos, edit text right from the website and house a dealer-database with hundreds of dealers – believe it or not, a short list of the items that went into this project. Look at the photos and spend some time browsing the website for yourself.
[line]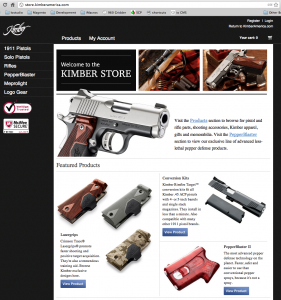 Web Store
Built using the popular Dot Net Nuke e-commerce platform, this site was skinned to be as pretty as the actual website. The products are being pulled in internally based on their inventory.approved dose by doctors fit people, and 5mg of aging adults and malnourished patients, together with those with liver failure. The tablet is usually recommended to be taken http://www.theirishmanwhiskey.com/tour/ prior to going to bed.